Online order form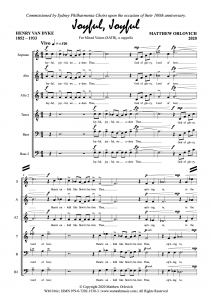 Joyful, Joyful for mixed voices (SATB), a cappella is available as a PDF score supplied with a reprographic licence.
The reprographic licence gives you permission to print the PDF @ $2.50 per copy.
Follow these 3 easy steps to request your PDF score and reprographic licence:
Step 1: Fill out the form below, specifying how many licensed copies you wish to print from the PDF. 
Step 2: Waratah Music will email you an invoice. The invoice total will be $2.50 multiplied by the number of copies you've specified.
Step 3: Upon payment of invoice (we accept PayPal / credit, debit cards, etc), you'll receive an email with the PDF score, reprographic licence and receipt attached!
---
Have any questions? We look forward to assisting you… (send us an email)
Read all about the score, world premiere date, and more… (click here to go to product page)
---